Going with the Flow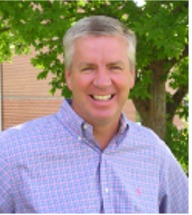 November 1 is All Saints Day.   October 31, Halloween, is just a shortened version of "All Hallows Eve" (all holy one's eve).
On the morning of October 31, 1517 the people of Wittenberg Germany woke up to a scandalous situation.   The young monk who was teaching at the university had posted on the church door a list of 95 inconsistencies that he was seeing between the Church's official teachings and what he was
finding taught in the Bible.  Among these inconsistencies were some of the most basic elements of our faith (for example, faith alone in Christ alone; Scripture is our ultimate authority).
It took an incredible amount of courage and spunk for the young professor to go public with his findings.  He truly was taking a stand against the powers that be.  The monk's name was Martin Luther and God would use his boisterous personality to shake the world.
God used other men to continue to bring about reform.   By the time John Calvin was 20, he was financially set for life.  He had inherited a great deal of money.   However, rather than following the pattern of the typical young heir, Calvin used his new found freedom to live in the library and bury himself in the Bible.  God ultimately used his brilliant mind to logically explain His truth more thoroughly than had ever been done before.
God uses people who are willing to swim against the current.  In fact, I think that sometimes He even creates scenarios that are designed to do nothing more than test our commitment to Him to see if we're willing to buck the system.
Being willing to stand for Christ doesn't guarantee we'll end up changing the world like a Luther or Calvin, but it does position us to be used by God.   So, why is it so tempting to go with the flow?